Time Change Baseball Game
Have lots of fun playing this Baseball Math Time Change Game to help develop your time conversion skills.
Students can play the game alone, or in two teams to compete for a chance to score homeruns. For each correct answer, the teams will get an opportunity to score points. This game is a lot of fun and can be played on computers, iPads, and other tablets. You do not need to install an app to play this game on an iPad. Have fun adding decimals!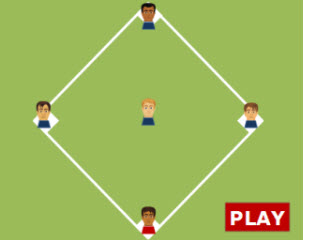 The game is aligned to the following Common Core Math Standard:
CCSS 4.MD.2
Use the four operations to solve word problems involving distances, intervals of time, liquid volumes, masses of objects, and money, including problems involving simple fractions or decimals, and problems that require expressing measurements given in a larger unit in terms of a smaller unit. Represent measurement quantities using diagrams such as number line diagrams that feature a measurement scale.